Submitted by: Rlan
This images taken from a SEGA Megazone magazine shows Tails flying through one of the special stages. However, in the final game Tails can never get into any special stages, as his is the 'easy' game. The special stage isn't in the final either.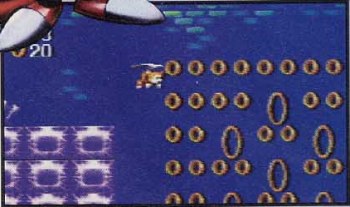 Submitted by: Knuckles Prower
This image has a whole load of things wrong with it. Firstly, the Heads-up-display is around the wrong way, the grass appears to be darker, Sonic's sprite appears to be a little different in style, and there is no 'water' mark in the background, or islands.